Pipeline
Pig Launcher/ Receiver
Pig Receiver &Launcher are essential parts of pigging equipment, which is installed on both ends of pipeline to launch or receive the pigs. It consists of quick-opening closure, barrel, reducer, support saddle, etc. It could be divided into vertical and horizontal types. The vertical type is mainly used to launch and receive pipeline cleaning pig, and horizontal is for filter and the like.
Size range from 3"to 32".  

Class Rating from 150 – 2500.

Materials – Carbon Steel, Stainless Steel, Monel.

Option of Pig Signallers available.

Quick Opening Closures with Safety Interlocks.
Valve Station
Valve stations are junctions where pipes in a network have a central control system. They are built along the pipeline above the right of way, like near roads away from overhead electric lines and other obstructions where it is easily accessible, making it easier for workmen to access the valve station in case of an emergency.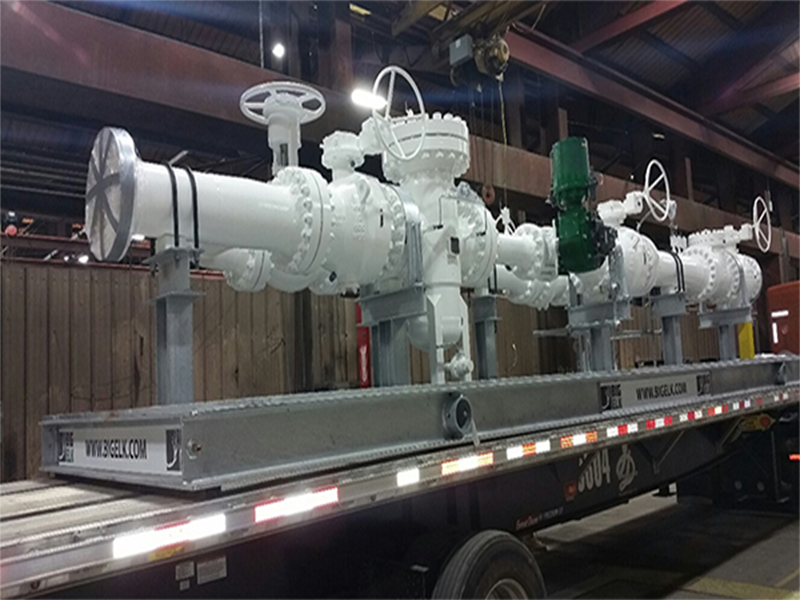 The valve station can be remotely operated and regulations are in accordance with requirements of the operating company. A communication system used to interact between all valve stations is kept in operating condition at all times to ensure quick relay and response in an emergency or otherwise.
With the help of these stations, it is possible to isolate a particular segment of pipeline for maintenance or repair work. Depending on the type of pipeline, i.e. the type of product the pipeline transports, the valve stations are located at an interval of 20 to 30 miles.
Booster Station
Compressor stations are an integral part of the natural gas pipeline network that moves natural gas from individual producing well sites to end users. As natural gas moves through a pipeline, distance, friction, and elevation differences slow the movement of the gas, and reduce pressure. Compressor stations are placed strategically within the gathering and transportation pipeline network to help maintain the pressure and flow of gas to market.